EVA (Ethylene vinyl acetate) production workshop
The EVA production workshop is outfitted with various automatic production equipment, enabling online detection. Online detection ensures an even EVA film thickness, a small shrinkage ratio below 1%, crosslinking degree of 85%, fast lamination and a 25 year serving life even in hot and humid environments.
Solvent-free lamination workshop
The solvent-free lamination workshop is outfitted with two solvent free laminators, which support an annual production capacity of 20,000T. Meanwhile, products manufactured with these laminators feature high lamination strength. This equipment is particularly suitable for food packaging products.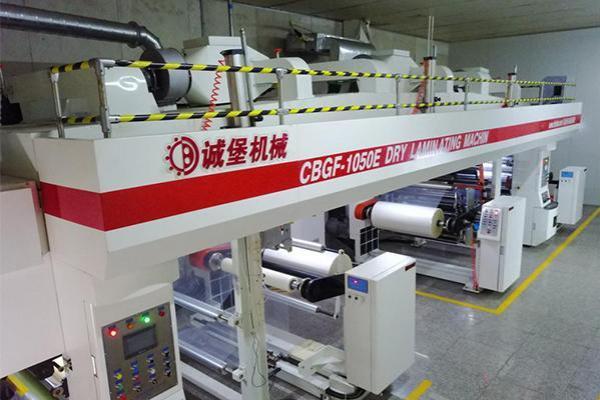 Dry lamination workshop
Huafeng operates 6 dry lamination lines, which supports an annual lamination capacity of 20,000T. Meanwhile, the lamination line allows for PVOH (polyvinyl alcohol) coating. After dry lamination, barrier materials with gas permeability below 1% can be laminated.
Co-extrusion blown film workshop
Our six multi-layer co-extrusion blown film lines, enable an annual thin film production capacity of 12,000T. Thin films manufactured with multi-layer blown film lines are of high transparency, high tensile strength, uniform thickness, etc.
Huafeng has dedicated itself to producing functional thin films, which feature easy opening, anti-fogging, mildew-proof, anti-microbial, and anti-static performance.
Co-extrusion blown film workshop
Finished thin film
Custom printed flexible package making workshop
The custom printed flexible packaging making workshop has more than a dozen multi-functional high-precision bag making machines, are used to produce almost 2 billion bags, including three-side seal plastic bags, four-side seal plastic bags, custom fin seal paper bags, plastic stand up pouches, zipper storage bags, special shaped bags, flat poly bags, etc. All bags manufactured by Huafeng possess an attractive appearance, high air-tightness, and high strength.
Custom printed flexible package making workshop
Automatic high-precision bag making machine
Vacuum storage bag making workshop
Huafeng is one of the world's leading vacuum seal storage bag manufacturers, utilizing over 20 pieces of bag making machines and automatic bag folding machines. These machines support an annual production capacity of 200 million pieces of vacuum seal storage bags. These vacuum seal storage bags feature small rate of air permeability, attractive appearance, and they are multi-functional. Huafeng has also established a trackable system for barcode management. This is vital for high precision inventory management systems.
Vacuum storage bag making workshop
Automatic bag folding machine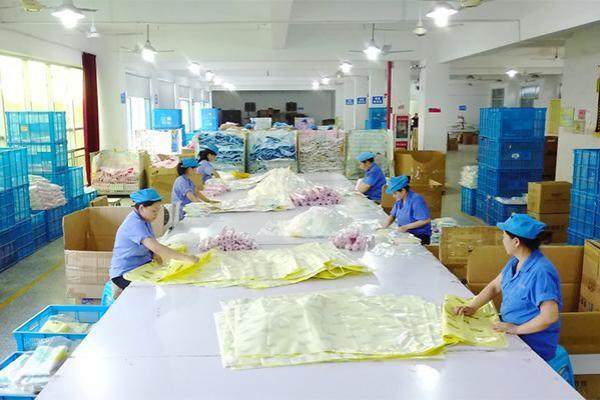 Storage bag packaging workshop
The vacuum seal storage bag packaging workshop is highly automated. The equipment can produce 800,000 pieces of bags in a single day, ensuring that the finished products can be delivered within 24 hours.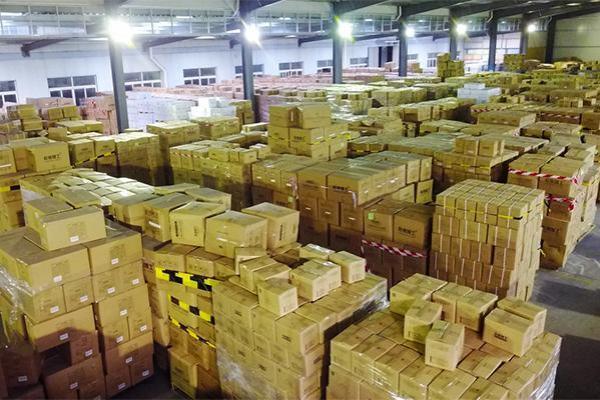 Finished product warehouse
TheHuafeng finished product warehouse covers an area of 6,000 square meters. A FIFO system (first-in, first-out) is adopted in our finished product warehouse and all items are trackable.
Container loading
Huafeng bags have become increasingly popular on the international market. When it comes to exporting our products, we have avenues in the Port of Ningbo and port of Shanghai for flexible shipping options. When we deliver products by ship, we adopt several protective measures including moisture proof, anti-vibration, anti-tilting, and others to ensure the safety of our products.
Container loading
Product delivery