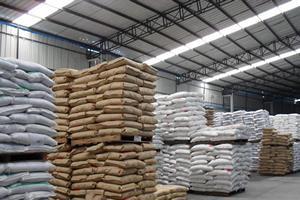 Raw material warehouse
Plastic packing film plays an important role in the packing industry. Huafeng has been providing packaging services for more than ten years. We have been dealing with various kinds of packaging materials and familiar every aspects of its characteristics. Please feel free to contact us if there are any needs for consultation, we will recommend best products to suit your needs.
We commonly use PP, PE, PET, PVC, EVA, AL during production. Please read the list below to learn about the details of these materials.
PA
PA stands for polyamide and it offers good mechanical properties that are useful for our operations. The material can be modified for flame retardant and weather resistant properties. Polyamide is one of the most commonly used packaging materials for bags in the world.
PET
PET is short for Polyethylene terephthalate. PET bags offer excellent barrier performance and are suitable for use at temperatures below 60℃.
PE
PE can be further processed into LDPE, MDPE, HDPE, the mechanical strength, barrier properties, and heat resistance properties are significantly improved with higher density.
BOPP
BOPP possessed great tensile strength and impact strength, usually can be seen on the outer layer of package and for purpose that doesn't require aesthetic requirements to be met. BOPP can be used for snack packing to prevent the entry of moisture due to its high air and moisture barrier properties.
BOPA
BOPA is known for is non-soluble properties, great printability, wear and cold resistance. Commonly used for fat-based product, and frozen food packaging.
BOPET
BOPET have high heat resistance properties, perfectly stable under temperature of 240 degree Celsius. Commonly used as a portable pouch.
POPP
POPP is processed by using Polypropylene as raw material, adding certain amount of pearlescent masterbatch, and stretch into thin film. Commonly used for packing and decorating candy and chocolate.
PT
PT also known as cellophane, a non-thermoplastic film. It has great printability, the color of the film is very bright, one of the best materials for candy wrapping.
Aluminum foil
Aluminum foil has a metallic surface, heat and light reflecting properties. Its bright and reflective surface and increase the brightness of its colors with its high barrier properties can prevent its content from becoming damp.
There are many other types of packaging material, please leave a comment if you want to learn more.